Team
The social issues that Leyden Academy wants to contribute to, require a multi-disciplinary approach. For this reason, our team reflects the necessary diversity: doctors, physical scientists, social-cultural anthropologists,  psychologists and communication specialists. A brief introduction of our team members and their area(s) of expertise can be found here.
In the picture: (rear half circle, from left to right): Yvonne Schinkel-Koemans, Jacqueline Leijs, Maurits Hafkamp, Niels Bartels, Albert van Duijn, Josanne Huijg, Lex van Delden and Jolanda Lindenberg; (middle half circle, from left to right.): Ineke Vlek, Ellen Plasmeijer, David van Bodegom, Marie-Louise Kok, Anja Persoon and Daniëlle Swart; (in front): Joris Slaets and Marieke van der Waal.
Not included in the picture: Paul van de Vijver, Frank Schalkwijk, Antoinette Reerink, Belia Schuurman, Anne Annink and Josefien de Bruin.
Board of Management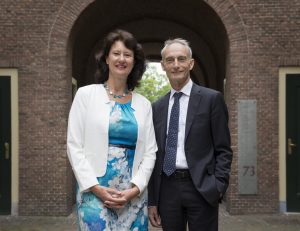 The members of the board of management of Leyden Academy are Prof. Joris P.J. Slaets and Ir. Marieke A.E. van der Waal.
Supervisory Board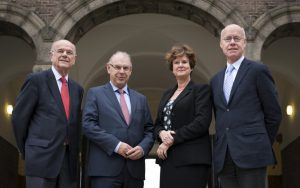 The Supervisory Board of Leyden Academy consists of (from left to right): Mr. Jos W.B. Westerburgen, Dr. Wim M. van den Goorbergh (Chairman), Prof. Marianne de Visser and Ir. Boudewijn F. Dessing.