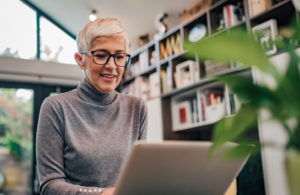 Facing retirement, 10% dreams of starting their own business and 73% needs to keep working for financial reasons. Research shows that people over 50 who start their own business are two to three times more successful than people in their thirties. Yet almost all start-up programs target and are tailored to young entrepreneurs. By encouraging entrepreneurial activity we could give people the opportunity to live out an active lifestyle, increase employability and reduce risks of financial vulnerability and ageism.
That is why we are introducing Silver Starters, a learning program to help people over 50 who dream of starting their own business. Do you have a good idea and are you fifty or older? Without a job or at work but with a desire for a new career? Or are you retired and dreaming of starting your own business? Then this free course is for you!
Online learning program with adaptive learning paths
Silver Starters is a personal, digital learning program where people over 50 learn the basics to turn their idea into their own company during eight modules of online learning and personal coaching by experts. Prior knowledge is not necessary. You learn at your own pace, only what you want to learn and skip what you already know (adaptive). The study load is approximately 16 hours per module. With a personal online learning pathway, participants learn to explore the market and receive personal support from coaches and experts.
Topics include:
Discover customer insights
The ability to apply design thinking
Learn to test assumptions fast
Basic knowledge of business models
Basic knowledge of (online) marketing
Introductory knowledge of change management and mindset
Getting acquaintance with tools to develop prototypes such as open source coding
Coaching
An important and highly appreciated role is played during (and after) the course for the guidance of experts. The coaching is completely focused on the wishes and needs of the participants. This varies from start-ups, innovations, business processes, marketing, market research to finance, etc.
Time frame course 2021
Start: January 14, 2021, 10.00-13.00 (online)
Interim: eight modules online learning with coaching (study load approximately 16 hours per module)
Mid-event: February 18, 2021, 10.00-12.00 (online)
Closing: 25 March 2021, 3 pm-5pm (partly online and partly offline, if possible)
Review of course 2019
This course (then called Start-up Plus) was organised for the first time at the end of 2019 and was successfully completed by fifty participants. In addition to the enthusiastic reactions of participants and coaches, there was also a lot of attention from various media.
The program is developed by Leyden Academy, Medical University Lodz, University of Naples Federico II, Instituto Pedro Nunes, and Aegon, and is supported by EIT Health.
For more information, please watch the short trailer, visit the website or contact Ineke Vlek.