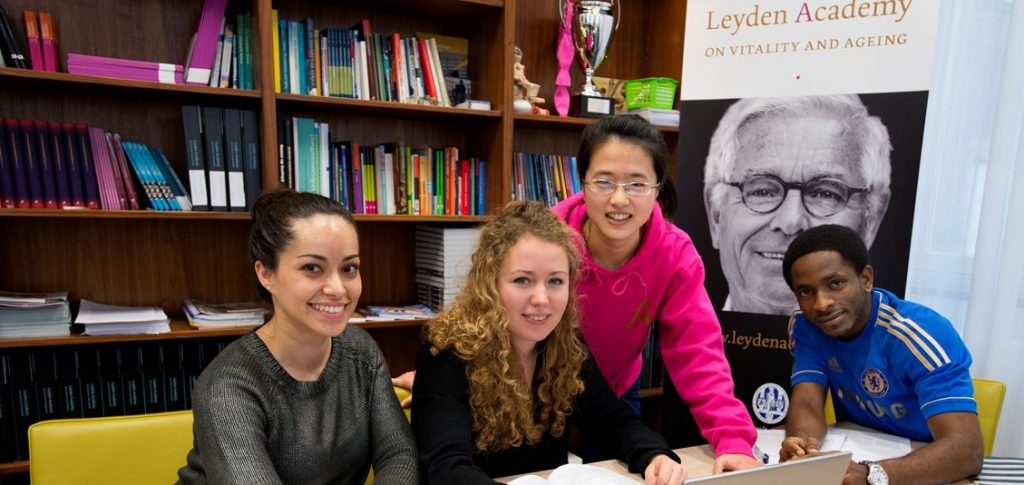 Future challenges of today's healthcare systems
The MSc Vitality and Ageing is a brand-new master's programme full of future potential, co-creation and health management. You will work closely with a small group of students on innovative care for our senior citizens: seek out the policy of the future with a multidisciplinary vision. Today's senior citizens demand a different kind of health care, they deserve to be in charge. With your creativity and inventiveness, we are researching a new policy. With this master's programme, you draw on multiple disciplines to contribute to greater independence, health and happiness for senior citizens in our society. And you work together with senior citizens, they are the basis for a healthy future.
Background
Leyden Academy established the MSc programme Vitality and Ageing in 2009, in close cooperation with the Leiden University Medical Centre (LUMC) and Leiden University. A unique study with an international orientation that encompasses the broad scope of geriatrics, gerontology and healthcare structure and with a focus upon personal and academic development. In six academic years, about one hundred students from all over the globe enrolled in the master programme: from Nigeria to Mexico, from China to Iran. In 2016, the Master Vitality and Ageing was embedded in the education portfolio of the LUMC, allowing the programme to educate more pioneers who make a positive difference in the care for older people, all over the world.
For more information, please visit the website of Leiden University. The MSc Vitality and Ageing is also available in a part-time programme.
Quotes from our alumni
"I enjoyed the friendly and intercultural atmosphere, sharing ideas with students and lecturers of different backgrounds. I was constantly inspired and challenged to think independently and outside the box."
Esther Okiemute Udi from Nigeria, class of 2015/2016
"The master program gave me in-depth knowledge and awareness on biological, clinical and social aspects of the ageing process."
Kelvin Leshabari from Tanzania, class of 2014/2015
"Besides working with older patients, I aspire to be involved in scientific research or health policy. The master has prepared me for this future by providing up to date knowledge in elderly care, and useful skills. I truly feel I am able to make a change in tomorrow's medical care."
Eva Smeenk from The Netherlands, class of 2013/2014
"Listening to lectures by researchers whose papers I have read before in high-profile medical and scientific journals, has been both humbling and inspiring."
Raúl Hernán Medina Campos from Mexico, class of 2012/2013