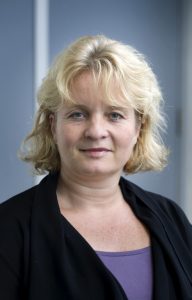 Since June 2012, the Association Het Zonnehuis and Leyden Academy are working together closely. As a result of this collaboration, Danielle Swart is responsible for projects concerning education for (future) health professionals, improving the negative perceptions of the elderly and transfering scientific knowledge to the elderly healthcare industry.
Danielle has worked for the Association Het Zonnehuis since May 2003; a network of independent healthcare organisations for the elderly. In 2007, the Association Het Zonnehuis became an independent, non-profit organisation that supports innovative projects and applied scientific research regarding the elderly. With her communications background and fundraising expertise Danielle is the key contact person for member organisations and networking relationsips, and responsible for project management, communication strategy, office administration and business support.
Furthermore, Danielle is very involved with various charities including foundation Wiesje and Sunflower. Danielle writes a monthly column on Ned7.nl.
Topics
Revising healthcare, perception of the elderly, frail elderly, dignified healthcare, role models, connecting young and old