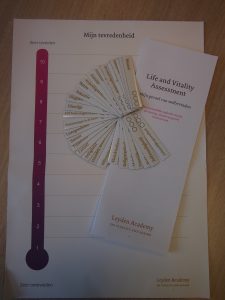 Leyden Academy has developed a tool to measure the wellbeing of older individuals. It provides insights into what older individuals find important in their lives and how they perceive their own well-being. Based upon these insights, goals can be defined to improve and/or maintain well-being and a plan can be made to achieve these goals.
The Life and Vitality Assessment, also known as the LAVA tool, is currently being tested in a care and welfare setting in The Hague and Leiden in the Netherlands. Are the appropriate questions being asked? Is it easy to understand and use the tool? Do the outcomes meet the expectations of the older individuals? Do care and welfare professionals benefit from the use of the tool? Focusing on the well-being of older individuals is important to shift the perspective from the complaints and symptoms of the older person to their desires and what makes them happy.
Please click here for a short video introducing the LAVA tool.
For more information, please contact Josanne Huijg.